Precision Measurement Servicer in Shelby, AL
Established in 1987, Bentley Optical Alignment Services, LLC is an optical- and FARO-backed alignment service company dedicated to delivering precision results. We're proud to have established a reputation for excellence by serving the needs of paper mills across the United States. Call us today to schedule your optical alignment and let us put state-of-the-art equipment and decades of expertise to work for your operation.
An Alignment Service Company You Can Trust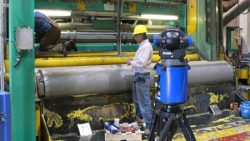 The equipment within your paper mill is the lifeblood of your operations. From the slightest smallest misalignment to the biggest breakdown, the condition of your machinery affects the integrity of your product and the efficiency of your operations. It's why mills from around the United States call Bentley Optical Alignment Services, LLC for laser alignment in Alabama. Using high-precision FARO lasers and other high-tech optical instrumentation, we thoroughly survey your paper mill machinery to detect even the smallest imbalance or misalignment. We're also familiar with the common defects and problems passed by under-maintained machinery. Our equipment and expertise allow us to get to the bottom of your machinery's inefficiencies and we provide you with a detailed account of our findings. Then, we get the numbers for you to fix them. We're able to get you the measurements to repair most common (and uncommon issues) with quickness, integrity and safety in mind. Our sole mission is to get your machinery and your mill up and running smoothly again.
After a thorough FARO laser alignment, we'll give you the proof that your mill is running at peak performance: No defects, proper calibration and extended machine life. If you're seeing defects or can't remember the last time you had your paper machinery measured or aligned, call Bentley Optical Alignment Services, LLC and see why we're known nationwide for precision alignment services.
We utilize state-of-the-art laser equipment to align paper machine rolls. We take precision measurements and provide them directly to you.
Our company is small and family-oriented. We're proud of our honest values and strive to build relationships with our customers.
Our staff is well-tenured. We work with the same team for years, honing expertise and skills to ensure our craft is distinguished.
We're certified through a variety of safety programs, including ISNetworld, OSHA 10, TAPPIESAFE and more.
We're capable of providing alignment services across the spectrum of your paper machine's needs.
Contact the Precision Measurement Experts
If your paper machine shows signs of misalignment, premature wear or inefficiency, contact the experts at Bentley Optical Alignment Services, LLC. We serve mills throughout the U.S.